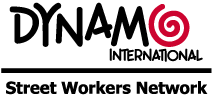 DYNAMO INTERNATIONAL – STREET WORKERS NETWORK PROPOSES YOU TO BE THE MAIN ACTORS OF THE INTERNATIONAL FORUM "WORDS FROM THE STREET III".
About Dynamo International Street Workers Network
Dynamo International – Street Workers Network is an international network made of social street workers that act on the field in favour of persons in street situations. The idea is to make these street workers easily and simply available to those who are the most excluded.
Stay informed of the evolution of the program